Sue Carabetta is the Manager of Community Engagement and Seniors Programs here at North Shore Community Resources. Being a part of enriching the lives of people across the North Shore constantly inspires her. She is an encouraging leader who loves connecting people and bringing out the best in her team. At the end of the day, her goal is to bring small supports to help people live independently, stay socially connected, and have a good sense of well-being.
The Personal and the Professional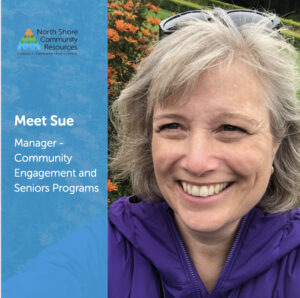 Before landing at NSCR, Sue worked at the Stroke Recovery Centre. She looks back at that time fondly. Working with amazing people and hearing the stories of people with incredible courage fostered a strong sense of connection and friendship. Community-based work like this is something she has always done. Prior to the recovery centre, she worked in community development, and as a dietitian in long-term care facilities. In fact, Sue was the director of the dietary department at Cedarview Lodge.
Sue took on her current role because she loves working with both older adults and young people. In fact, she still volunteers at a teen camp each summer. If you ask her team, they will say that her style of leadership focuses on playing to people's strengths and building up the best in everyone. Sue also loves learning from her team, especially summer students and practicum students who bring a fresh set of qualities, skills, and ideas. It's the synergy of everyone working together for the good of community that Sue is most proud of. When we accomplish something together, it is fun, meaningful, and surely makes a difference.
Community Engagement and Seniors Programs
The way Sue sees it, the focus of her job is to bring the enthusiasm and encouragement to the team. She provides support in developing ideas and funding for new initiatives. She enjoys brainstorming and dreaming up possibilities of how to support the North Shore – particularly for older adults. It is this demographic that Sue regards as being the people who made this community what it is – and she loves when they pour wisdom into our lives. Giving back and supporting them is what the senior and community engagement programs are all about.
Sue's management encompasses the following teams: Better at Home, Seniors One Stop, InterGen North Shore, Caregiver Support,Income Tax Clinic, Info North Shore, InterAgency Network, and Volunteer North Shore. When growing these programs, Sue takes a personalized approach. Since people are not one-size fits all, we need to listen and tailor our work to what makes a difference and helps each client meet their goals for well-being and independence.
As a team, we work best from our strengths and we work best in an encouraging team building an environment together where we care about each other and work together to help our teammates as we work to assist those In our community. Sue gives credit to her team for being flexible, innovative, and responsive. They continually develop ways to do this work in more meaningful ways that serve seniors across different programs.
Available Offerings at NSCR
So, what does Sue wish more people know about NSCR? We have a lot going on! There are so many different things that the team does that often go unused by people who could benefit from them. For example, Seniors One Stop is open five days a week to help you wrestle through questions about aging and new supports or referrals you might need to navigate this stage of life. Our Community Connectors can help assist with a multi-step plan and support to help you meet your goals and make positive change through accessing community supports.
Sue also finds that people get connected to one program without realizing that there are other programs they are also entitled to use. Sue wants people on the North Shore to use as many of our offerings as they can. We are here to help!
Sue also wants people to know that our staff is friendly and genuinely has fun connecting with people who call or come in to see us. Including all our wonderful volunteers, there are lots of people on hand doing a tapestry of jobs. Lots of us do a little bit.
As for volunteers, Sue wants people to be assured that it isn't the type of thing you have feel locked in to or dedicate lots of hours for a long time. You just need to do a piece of the work – and it's the piece you choose. To see our current volunteer openings, visit our database here or call us to chat about getting involved.
Recent Updates
We offer seniors programs and services in Farsi.
We are nimble and responsive to community needs and were delighted to be able to assist seniors impacted by the fire at Silverlynn to settle in to new homes and procure and move new furnishings.
Surprises About Sue
Sue's favourite ways to spend her time are visiting with people (no surprise!). She also loves puzzles, so if you put a puzzle in front of her it is easy for her to stay up to the early hours of the morning.
Surprising fact: Sue lived in Australia for a year, and during that time traveled a lot in the South Pacific. She was even bit by a monkey when she was in Indonesia!
In Sue's approach to contributing to health, well-being, and connectedness of North Shore residents, she looks to this sentiment:
"It's not 'What's the matter with you?' – it's 'What really matters to you?'" As we think about what matters to us we focus on where we can go and what we can do to improve lives. It is our goal to have this lens as we help people in the community find the services and connections they need. With that, it's easy to see that Sue is the kind of person who is capable of identifying what the CES demographic could benefit from – coming from a place of compassion and understanding.
To learn more about our program offerings and how to access them, read here: