Our program offers support to caregivers so you can maintain your own resilience, health and well-being.
Stepping into a caregiving role is often a life-altering experience. Caregiving takes courage, patience, and endurance. It can be a challenging and lonely role.
Fortunately, you are not alone. North Shore Community Resources' Caregiver Support Program, is here to help you gain knowledge, strength, and inspiration that allows you to connect with other caregivers. Our Caregiver Support Program hosts support groups and workshops, one-on-one consultations in person, by telephone and online as well as referrals to health care and community services. We offer stress management strategies and relaxation techniques, informative blog posts, a resource library, and a bi-monthly newsletter.
NCSR and the North Shore News are hosting the 5th Annual Caregiver & Senior Expo on May 13, 12-4pm at Silver Harbour Senior Centre with guest speakers and many North Shore agencies offering helpful resources: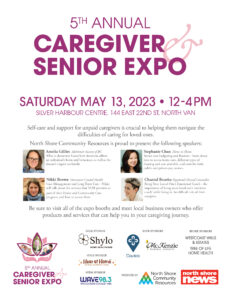 We also offer our Caregiver Coach and Peer Facilitator service* which focuses more on 1-1 support for caregivers. If you are interested in becoming a caregiver coach and/or peer facilitator to host support/education groups, please contact us.
*We are grateful for the amazing response of volunteers to the Caregiver Coach and Peer Facilitator Program. New applications for the Caregiver Coach and Peer Facilitator Program are on hold until further notice. However, if you are interested in finding out about other ways to volunteer with the Caregiver Support Program, please contact Vic Gailiunas, Program Coordinator, Caregiver Support Program: [email protected]
All of our services are free and confidential. We are here to support you on your caregiving journey.