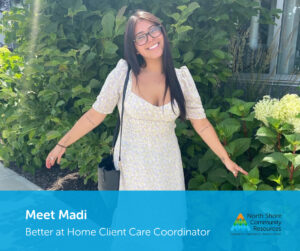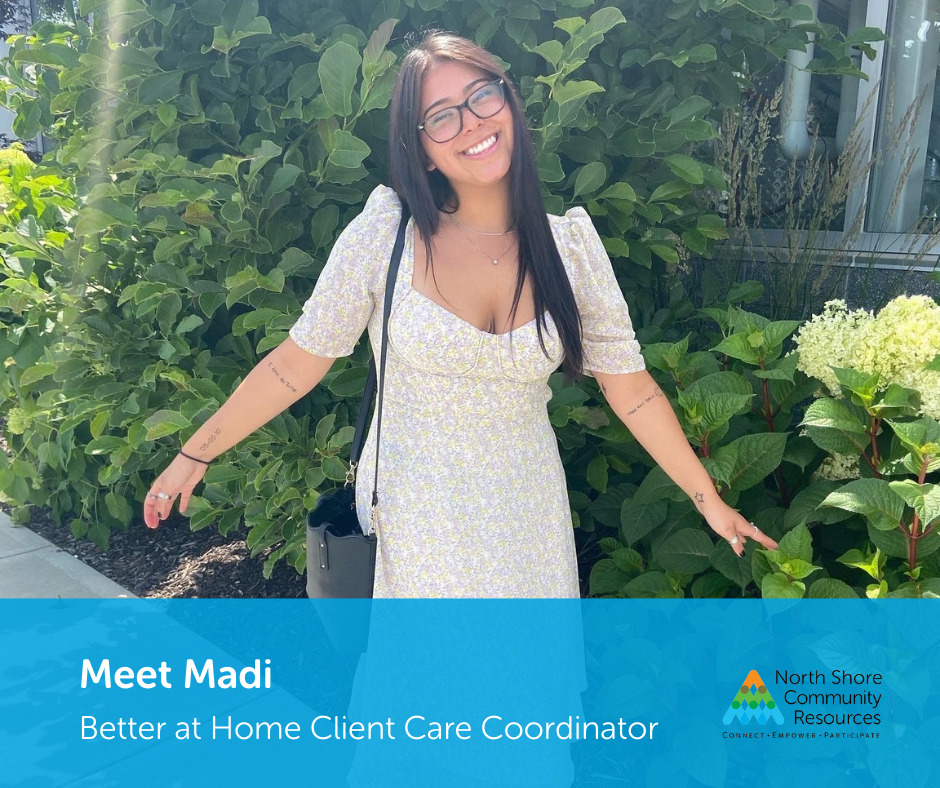 Madi Gaffney is a Better at Home Client Care Coordinator, long-time North Shore resident, and car enthusiast. She took the leap from retail management to community engagement because she wanted to try something new while still applying her customer service experience. After connecting to NSCR through a youth worker she knows, Madi joined our team and has been making a positive impact ever since.
Keep reading to learn more about who Madi is and why she is essential to the Better at Home program.
Making an Impact at NSCR
As a Client Care Coordinator, Madi organizes four of the services available to older adults on the North Shore. These include minor home repairs, light yard work, grocery shopping, and transportation for medical appointments. She communicates with clients to make sure they receive the services they need, and with volunteers to connect them with weekly to-dos. Her flexibility in figuring out how to meet client needs is unmatched. Because of this, people can stay happy and independent in their homes.
The Better at Home program is volunteer based, so Madi ensures that no one does more than they are willing to commit to. She is also incredibly grateful for the people who dedicate time out of their weeks to make sure other people in the community get support.
Upon talking to her, Madi's enthusiasm for working with clients and volunteers is clear. If you would like to sign up as a client, you can submit a form here. If volunteering is of interest to you, call 604-982-3321.
Before She Got Here
Prior to starting at NSCR, Madi worked at North Shore Ski and Board (NSSB) managing one of their departments. At NSSB she got her certification to work on all ski brands as a tech this past winter. With that, she learned how to work on bindings to make sure they were safely adjusted for the customer to use when they left the shop. This care of service extended to her role with Better at Home.
The North Shore offers so many different activities for people to do. There's constantly something new you can try or learn, like skiing, snowboarding, wake surfing, wakeboarding, water skiing, foiling, kiting – and Madi was always up to the task of matching customers with their adventure needs. Given the knowledge she picked up in this time, it's no wonder how quickly she eased into the role of Client Care Coordinator.
Why Client Care Coordination?
Madi's day to day involves constantly talking to people. She enjoys the challenge of meeting people's needs with the resources she has. There is something about never fully knowing what to expect that keeps her engaged every day.
What she wishes more people knew about the Better at Home program is that it is open to everybody. We can also provide access to other resources outside of our own. We are the place to connect people with what they need to live independently in their own homes. Even if we don't have what you need, we can help you find it.
Learning on the Go
Aside from the skills and abilities that she has learned on the job, she has also discovered her own emotional intelligence. After people on the team had mentioned the concept to her, she took a test and found out that it was true! Being intuitive and having a sense of what people need is not only important for her job, it's essential for being the person she is.
Madi Off the Clock
Something that people might not know about Madi? She is a car enthusiast. In fact, she has enrolled at BCIT to attend their automotives program. Her interest began in high school, and her curiosity has taken off ever since. Recently, Madi replaced the starter in her car all on her own.
Aside from cars, Madi also loves music. She likes to listen to it, and she likes to learn to play instruments like piano and guitar. She even sings and writes songs!
Signing Up for Better at Home 
If you or someone in your life could benefit from the services offered by Better at Home, sign up here, or call 604.982.3321. For the same services on Bowen Island, contact Kim Sinclair at 236.988.9704.