There are resources available that many people are unaware of. At Seniors One Stop (SOS), we can help you find the ones you need. If you are an older adult or someone assisting a senior and need help finding services and programs to meet your needs, read on to learn the who, what, where, when, why, and how of what we can do for you.
Who We Are and Who We Serve
We are your first point of contact in finding the information and resources you need! We are a team of NSCR employees and SOS peer support volunteers who work directly with clients to listen carefully, answer questions, and provide you with information. Barb Butterfield is our Community Connector who goes out into the community to talk to people directly and find meaningful resources to put people in touch with. If you would like to learn more about the program, contact Kathy Jarvis – the person who makes this all happen!
Our team works with older adults on the North Shore, and the people in their lives. While there are other programs out there that can help you find what you need, we have been established since 1992 and have been forging connections, building resources, and putting together our library. We truly are your one stop.
Belief Statement: Seniors have given so much to our community throughout their lives, so we want to take our turn to be the ones to offer support with local resources.
What We Can Do
Our free and confidential services provide you with information on how to access home support, meal and shopping programs, transportation options, and where to attain supportive equipment. We will help you navigate information on subsidized housing, financial benefits, and referrals to legal services. SOS helps you stay connected and active with information about social, recreational, and volunteer activities.
We often have the knowledge of programs or resources that many people may not know about, such as the SAFER program. We keep an up-to-date Seniors Directory in partnership with the North Shore News.
In certain cases, our volunteers can help you locate and fill out benefit forms. For this, we ask that you make an appointment ahead of time.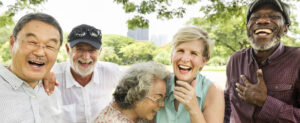 Where to Find Us
You can come see us in person at Capilano Mall (second floor, up the escalator from Wal-Mart). We also have a phone line where you can chat with us immediately.
Why We Do This
NSCR's mission is to connect, empower, and participate. It's in our makeup to provide the resources to help people in the community do the same.
"I really enjoy meeting people that have multiple questions or have a whole topic that they want to get information on, and they walk out of our SOS office feeling like they now have a handle on what they were feeling at a loss about.

I love it when you can tell that if it weren't for Covid, we'd be giving each other a hug at the end of our meeting together.

It's also a nice feeling when a client that I've previously helped makes a point of contacting me again for a different issue or concern. You feel like a connection and a trust had been built." – Barb Butterfield, Community Connector
When We're Open
We encourage people to make appointments to come and see us in person. With that, you can also drop in, we just can't guarantee that someone will be available immediately. Our office is open from Monday-Friday, 9am-4:30pm. You can always call us and leave a message, and someone will get back to you.
Sign Up as a Peer Support Volunteer
As a volunteer-based program, we are always looking for people to spend half a day per week in the office. If you would like to give some of your time to the community, connect with Kathy Jarvis at 604-982-3312 or [email protected].