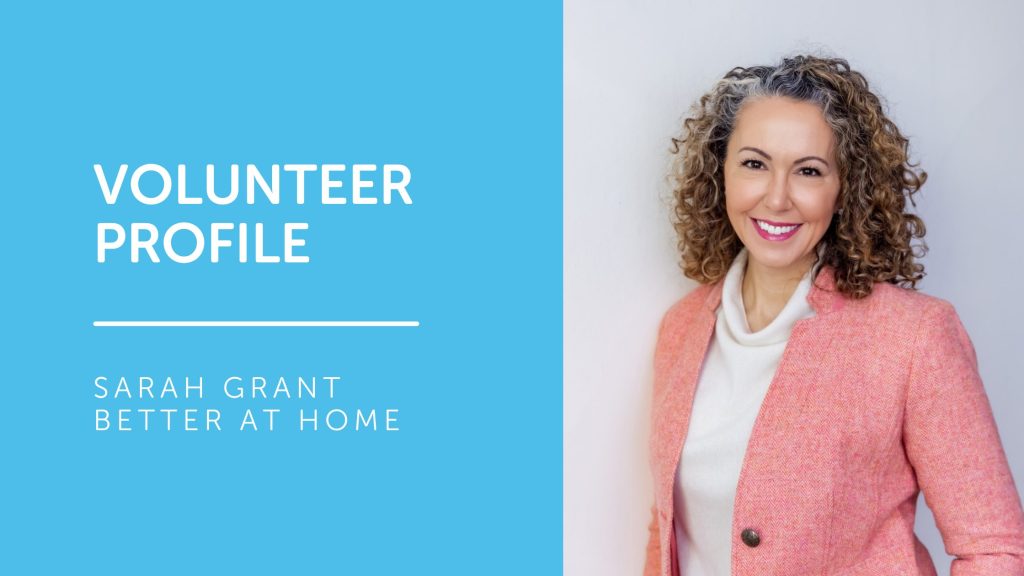 Sarah Grant is a working mom of four, a volunteer, and a champion for community connections. Over the last two years, she has given her time to grocery shopping and deliveries, and snow shovelling for older adults. This passionate volunteer shared about her motivation for giving her time to helping people on the North Shore. Read on to learn more about why volunteering makes her "heart beat a little stronger."
Growing Up with a Sense of Community
When she was growing up, Sarah lived in a small town in Ontario where community was highly valued. The value on community was ingrained in her, and it still matters very much. She also moved around, which fostered the need to stay connected so that she didn't feel alone. As someone who genuinely cares about the places she lives and the people within them, the sense of place and purpose is something that drives her to make the time to volunteer on a weekly basis.
Sarah wasn't working at the beginning of the pandemic. Like many of us, she wanted to do something to stay connected to the world. As someone who was at the store a few times a week anyway, it just felt like a no brainer to volunteer picking up and delivering groceries. Even now that she works four days a week, she still enjoys taking time out of her schedule to give back.
The Upsides of Volunteering
"Picking up and delivering groceries to a person who needs them makes my week," Sarah says. The way she sees it, everyone has a role to play and everyone is valued – and volunteering puts that sentiment into action. She is particularly drawn to the Better at Home Program because it focuses on helping seniors stay in their homes and maintain independence. Sarah is drawn to seniors because she didn't grow up with grandparents, so she craves learning from and lending a hand to them.
Another benefit of volunteering for Better at Home is that it gives Sarah the chance to teach her kids about giving back and the importance of community. As a mom of four, she often brings one of her kids along to pick up and deliver the groceries. One day, she took her 6-year-old-daughter with her. Both her daughter and the client were "over the moon" to meet each other, as her daughter had just lost a tooth and the client wanted to stand in as the tooth fairy and give her a small token. Seeing the joy in her daughter's face brought a smile to her client. It also instilled in her daughter how enjoyable it is to go out and do something for other people. Her kids continue helping her out and they look forward to their grocery trips.
Staying Connected
It's not just the happy moments that keep Sarah going. She also sees the importance in checking in with people who don't have many people in their lives. One day as she was at the store, she called the client to confirm some shopping items. After a few tries, Sarah couldn't reach client. She saw that as a red flag and hurried to the client's home. By the time she arrived, the client's daughter came to the door. As it turns out, Sarah's senses were right – the client had fallen, but since been tended to by her own daughter. It was an emotional example for Sarah about the reasons why connections are essential in communities. It reinforced the importance of being there and being consistent.
Sarah has learned that people have so much knowledge to share, things to contribute, and stories to tell. "Seniors are the glue that brings together the past and the present," she pointed out. During drop offs, she takes the time to chat with clients, and even in those brief interactions there are enlightening moments.
Advice on Becoming a Volunteer
If you are on the fence about volunteering or have time in the day you aren't sure what to do with, Sarah's encouraging comments are that it is so fulfilling. You can volunteer in many different capacities for places that have different purposes. If you like animals – work with them! More into technology? Find something in that field! Just find what resonates with you.
If you, like Sarah, would like to volunteer your time helping with the Better at Home program, visit our here to learn more about available positions. You can also call us at 604-982-3313.
Better at Home is funded by the Government of British Columbia, managed by the United Way and delivered on the North Shore by North Shore Community Resources. Volunteers are an integral part of their program so they can deliver programs to local seniors.