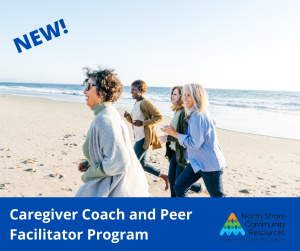 Caregivers dedicate time to the needs of others – and sometimes that means you may need some support for yourself. At North Shore Caregivers, we know that the caregiving community is one of compassion and resilience. Providing for a loved one's physical, emotional, or practical needs is rewarding, but can also be exhausting and challenging. We have designed the Caregiver Coach and Peer Facilitator Program to create space for you to get the support and education you need.
The program is open to caregivers who are looking for support, for coaches who would like to offer one-to-one help, and peer facilitators to host support/education groups. The program offers caregivers the benefits of 1-1 support to address emotional needs. Caregiver Coaches assist in the development of skills required to navigate the health system, including practical knowledge of systems operations, communications strategies for enhanced interactions with health care providers, and tangible information with regard to available resources and how to access them.
Services are available over the phone, online via Zoom, or in person.
We are currently looking for volunteers and participants for the following:
Offering caregiver coaching
Receiving support from a caregiver coach
Joining peer support/education groups
Facilitating a peer support/education group
This community is one of resilience and encouragement. Everyone is welcome. We are able to provide this service to the community through gracious funding from New Horizons.
To register for the program as a coach, peer facilitator, or caregiver, email [email protected] or apply directly by following the links below.
Register as a caregiver.
Register as a coach or peer facilitator.